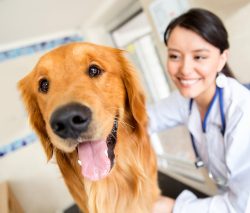 Man's best friend needs the oversight of a trained vet throughout his life. From spays/neuters to deworming, wellness exams to surgical procedures and beyond, we're your partner for any and all care your pup may need throughout his life.
We're familiar with most breeds of dogs in and we understand the unique health conditions that dogs can develop. We work to ensure your pooch lives a long and happy life through comprehensive preventive care—and we're here if and when they need emergency assistance or pet microchipping.
Your dog will love you unconditionally: make sure you're returning the favor and giving them the best quality of life in Saint Claude, Rathwell, Haywood, and Manitoba, MB possible. St. Claude Veterinary Clinic is here to help.
Our Canine Services
Dogs have been our best friends for a long time and we would like to keep it that way. Our caring and knowledgeable staff would like to help you set up an appointment for your furry friend.
We offer a wide range of products; including dog food and treats, shampoos and conditioners, leashes and collars, pharmaceuticals and nutriceuticals. We're also available for pet microchipping!
Our main goal is to provide our patients with the best possible medical and surgical care. Whether in clinic, at home or referred to a specialist, our focus is the health and well being of your pet. Through routine wellness exams, senior pet evaluations, spays/neuters, or even pre-anesthetic blood work; we believe that early detection and preventative medicine will allow your pet to live a long and healthy life.
With the help of ultrasound, digital x-ray and video endoscopy, we can diagnose your dog's illness quicker. If those are not enough, your pet has access to our in-clinic blood equipment or maybe have one of our Animal Health Technologists perform a urinalysis or fecal exam. How about a Heartworm/Lyme Disease test? The clinic also has access to the local provincial laboratory for any additional tests.
Euthanasia is never an easy time for you and your pet. It is also difficult on our team, especially when we have seen them grow up with you. They become part of our lives too. They ask very little from you, but give so much back in return. We try to make this process for you as easy as possible. We offer to our clients the option of burial bags for our smaller dogs or cremation options for any sized pet.
Contact us today to make an appointment for surgery, pet microchipping, pet supplies, and other veterinary services. We look forward to hearing from you!