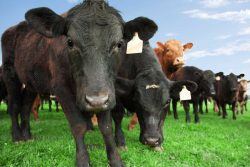 Owning dairy and beef cattle is a profitable venture, but only if your livestock is kept in optimal health. At Rolling Plains Veterinary Consultants, our years of expertise and experience allow us to deliver quality care to your cattle.
We're here to provide your cattle with ultrasounds, vaccinations, examinations, diagnostic testing, surgery and all else needed for optimal health. We will work with you to keep you up to date and educated on antimicrobial use, cattle health conditions and more!
St. Claude and South Central Vet Clinic are fully equipped with outdoor handling facilities and pull through trailer areas. Inside there are cattle squeeze chutes for examinations and surgery, as well as hoof trimming tables for problem feet.
We also have fully equipped work vehicles to help perform examinations, diagnostic tests, and surgery; on farms with the proper handling facilities.
For experts in individual cow health and herd immunity, trust none other than Rolling Plains Veterinary Consultants Inc.
Got Dairy Cattle?
Our clinics strive to be proactive in the field of livestock medicine, with no exception in the dairy world. We emphasize the importance of herd health and preventive medicine, as well as food animal safety to all of our dairy producers.
We offer biweekly and monthly herd health visits to our dairy clients providing ultrasound services to allow for early pregnancy diagnosis and uterine examinations. We also consult with our clients on vaccination and treatment protocols, body condition scoring, udder health and milk quality issues.
We also provide a wide range of products and pharmaceuticals for your dairy needs. An in-clinic laboratory, as well as access to the local provincial lab, provides our clients with many diagnostic options.
Where's the Beef Cattle?
Biosecurity and Food Animal Safety are two major issues we deal with at the St. Claude Veterinary Clinic, when it comes to beef herd health programs for our producers. As a veterinary team, we emphasize the importance of decreasing pathogen exposure and improving the herd's immunity. We educate our clients on the benefits of proper antimicrobial use, both in selection and administration. We communicate the importance of yearly on farm visits for pregnancy diagnosis and body condition scoring.
Contact us today!