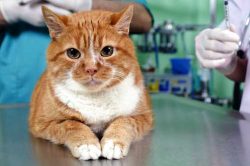 Your cat may be independent and sassy, but it still relies on you to make sure it's getting the veterinary care it needs to stay healthy. Rolling Plains Veterinary Consultants Inc. is here to provide you with the best in preventive medicine, emergency treatments and pet supplies in St. Claude, Manitoba for your cat.
Our mission is to help you prevent chronic feline illnesses from affecting your cat's health—and if conditions do arise, we use state-of-the-art equipment and training to quickly diagnose them. Our range of care capabilities for cats in St. Claude, Manitoba is expansive, and we're here to be your primary vet throughout your cat's entire life.
Even if your cat is independent and spunky, it still relies on proper vet care. Rolling Plains Veterinary Consultants Inc. is here to help make sure you can deliver it to them.
Cat Friendly Services
A lot of people do not like taking their cat to the vet. It can be a stressful time for them, whether the car ride or being at the clinic hearing and smelling all those other animals. However, that does not have to be the case. Get them used to car rides at a young age. Take them somewhere for fun or just a ride around the block. Do not associate car rides with the vet clinic. Leave their kennel out for them to play in. Leave their favorite toy or blanket in the kennel during the day. Possibly place some treats in the kennel for them to find.
If you think your cat still will have trouble at the clinic, schedule a cat only visit with us. Let our front staff know that they should only book the cat in when no dogs are scheduled to be around in the office area. We cannot stop an emergency or the dogs from barking in the kennel room, but we can certainly decrease some of the stressors your cat may be experiencing.
Our caring and knowledgeable staff would like to help you set up an appointment for your furry friend.
Here at the St. Claude Veterinary Clinic, we offer a wide range of products for your cat; including food and treats, feline pheromones, leashes and collars, pharmaceuticals and nutriceuticals.
However, our main goal is to provide our patients with the best possible medical and surgical care. Whether in clinic, at home or referred to a veterinary specialist, our focus is the health and well being of your pet. Through routine wellness exams, senior pet evaluations, spays/neuters, or even pre-anesthetic blood work; we believe that early detection and preventative medicine will allow your pet to live a long and healthy life.
With the help of ultrasound, digital x-ray and video endoscopy, we can diagnose your cat's illness quicker. If those are not enough, your pet has access to our in-clinic blood equipment or maybe have one of our Animal Health Technologists perform a urinalysis or fecal exam. How about a Feline Leukemia or Feline Immunodeficiency Virus test? The clinic also has access to the local provincial veterinary laboratory for any additional tests.
Euthanasia is never an easy time for you and your pet. It is also difficult on our veterinary team, especially when we have seen them grow up with you. They become part of our lives too. They ask very little from you, but give so much back in return. Here at the St. Claude Veterinary Clinic, we try to make this process for you as easy as possible. We offer to our clients the option of burial bags to take their pet home or, if they prefer, a communal or private cremation.
Call us today to make an appointment. We look forward to hearing from you!