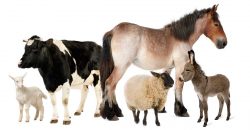 The St. Claude Veterinary Clinic was first established as a provincial veterinary services district clinic in 1975.
On May 1 st 2004, Dr. Marc Philippot became the sixth proprietor of the clinic and over the years has continued to grow and expand the practice in size, services, and patients. Part of this expansion was acquiring Carman Veterinary Clinic and South Central
Veterinary Clinic in the summer of 2013. Together we are committed to providing quality medicine and surgery to our clientele. We strive to offer the best health care options for our client's livestock and pets in Saint Claude, Rathwell, and Haywood, MB. Contact us today!

St Claude Veterinary Clinic
Our Team
Dr. Marc Philippot, DVM
Registered Veterinary Technologists
Shiyrah Bueckert RVT
Sophie Rey, RAHT
Jenna Wood, RAHT
Administrative Team
Kristie Philippot, RAHT – CFO
Barbara Rex
Dianne Henderson, Account Manager
Susan Potter, Receptionist/Kennel Assistant
Carman Veterinary Clinic
Our Team
Dr. Carly Prejet, DVM
Registered Veterinary Technologist
Mandy Hill RAHT
Kaylee Dueck, RAHT
Veterinary Assistant
Janette Dyck, Veterinary Assistant
Administration
Leslie Rose, Office Manger/Reception
South Central Veterinary Clinic
Our Team
Dr. Carly Prejet, DVM
Registered Veterinary Technologists
Pam Kozak, RAHT
Mary Scheger, RVT
Veterinary Assistant/Reception
Cassy Young
Veterinary Office Assistant
Alvin Delos Santos Segismundo
Administration
Jennifer Labossiere, Office Manager