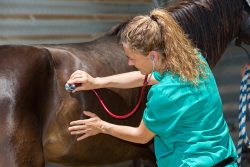 Not just any mobile vet can handle the unique healthcare needs of a horse. At Rolling Plains Veterinary Corporation, we can, and we're ready to ensure your horse receives the highest level of expert oversight.
From prenatal care to teeth floating, lameness examinations to Coggins Testing and beyond, your horses have access to best-in-class care no matter their health needs. Whether you own a show horse or a work horse, we'll ensure it gets the preventive and critical care it needs to stay happy, healthy and strong throughout its lifetime.
From the Pleasure Horse to the Working Horse; in shows, rodeos, racing, or pleasure, our ability to do in clinic and on farm X-rays and Ultrasound has allowed us to perform better health evaluations. Video endoscopy has given us sight – allowing us to examine the horse's guttural pouches and respiratory tract for infections and structural damage. This technology even allows us to look inside the horse's stomach to help diagnose stomach ulcers.We have PowerFloats that enable us to do faster and more accurate dental floats.
Besides routine examinations, pet microchipping, pre-purchases exams and surgeries; we also offer early pregnancy diagnosis through ultrasound. Whether in clinic, on farm or referred to a mobile vet, our focus is the health and well being of your horse.
St Claude and Notre Dame Vet clinics are fully equipped with outdoor pens for overnight stays in Saint Claude, Rathwell, Haywood, and Manitoba, MB. Inside there is a standing stock for examinations and surgery, as well as box stalls for in-clinic patient care and monitoring.
We have two fully equipped work vehicles to enable us to perform examinations, diagnostic tests and surgery on farm.
Our mobile vets also provide a wide range of products and pet medications for your equine needs. An in-clinic laboratory, as well as access to the provincial lab, provides our clients with many diagnostic options. Contact us at St. Claude Veterinary Clinic today!